Charitable Gift Annuity
Charitable Gift Annuity
When you are looking for ways to help Peggy Adams Animal Rescue League with our mission, you shouldn't feel like you are choosing between your philanthropic goals and financial security. One gift that allows you to support The League's work while receiving fixed payments for life is a charitable gift annuity.
Not only does this gift provide you with regular payments and allow us to further our work, but when you create a charitable gift annuity with The League you can receive a variety of tax benefits, including a federal income tax charitable deduction when you itemize.
A Charitable Gift Annuity may be established to benefit Peggy Adams Animal Rescue League, Inc. through the Community Foundation for Palm Beach and Martin Counties. There is a minimum age of 70 years and a minimum contribution of $50,000.
Watch How It Works
Next Steps
Contact Kim Hanson at 561-472-8576 or K.Hanson@PeggyAdams.org for additional information on charitable gift annuities or to chat more about the personal benefits of creating an annuity with The League.

Seek the advice of your financial or legal advisor.

If you include The League in your plans, please use our legal name and federal tax ID.
Legal Name: Peggy Adams Animal Rescue League of the Palm Beaches, Inc.
Address: 3200 N. Military Trail, West Palm Beach, Florida 33409
Federal Tax ID Number: 59-0637811
An Example of How It Works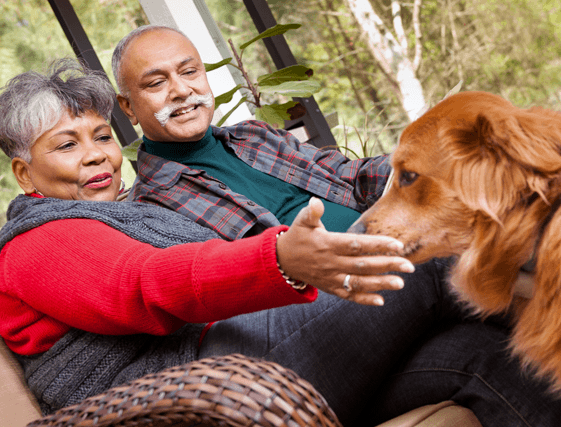 Say that Justin, 70, and Mary, 70, want to make a contribution to The League that will support our work for generations to come, but they also want to ensure that they have dependable income during their retirement years. They establish a $50,000 charitable gift annuity with the Community Foundation for Palm Beach and Martin Counties for the specific benefit of The League. Based on their ages, they will receive a payment with the rate established by the Community Foundation for Palm Beach and Martin Counties at the time the contract is entered. For example, at a rate of 4.6%, they would receive $2,300 each year for the remainder of their lives. They're also eligible for a federal income tax charitable deduction of $16,137* when they itemize. Finally, they know that after their lifetimes, the remaining amount will be used to support our mission.
*The percentages used for payment rate and income tax deduction in this scenario are approximations for illustration only. Deductions and calculations will vary depending on your personal circumstances.
Payments for Life
Learn more about the many benefits of a charitable gift annuity in our FREE guide Strengthen Your Future With a Charitable Gift Annuity.
View My Guide
Calculate Your Benefits
Submit a few details and see how a charitable gift annuity can benefit you.
Not Sure How to Begin Planning?
Get your FREE personal estate planning kit.
Download Now