Forever Friends
Forever Friends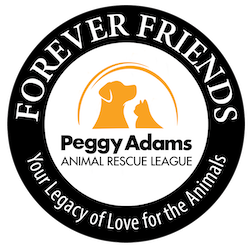 Play a key role in the future of our organization and know that your legacy will ensure a bright future for our animals.
Our Forever Friend Planned Giving program combines an appreciation of Peggy Adams Animal Rescue League's current needs and long-term goals with your financial, tax, and estate planning vision. Out of this discussion comes a contribution that delivers more benefits to us than you ever thought you could provide, while reducing the taxable portion of your estate.
For some, planned giving is as simple as listing Peggy Adams Animal Rescue League as a beneficiary on an insurance policy or an IRA.
Others prefer a more in-depth conversation about what you'd like your gift to accomplish.
Whatever your choice, we'd like to invite you to join our Forever Friends Society and enjoy our special events. It's our way of thanking you for including us in your future plans.
For additional help with your estate planning, please refer to your financial planner, estate attorney or accountant. We'll be pleased to assist you with specific details as to how your gift will help the animals at Peggy Adams Animal Rescue League.
For more information about planning your gift, contact Kati Erickson, CAP® at (561) 472-8576 or K.Erickson@peggyadams.org.
This information is intended to provide general gift planning information. Our organization is not qualified to provide specific legal, tax or investment advice, and this publication should not be looked to or relied upon as a source for such advice. Consult with your own legal and financial advisors before making any gift.